30% Save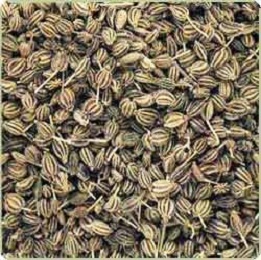 Botanical Name Trachyspermum Copticum.
General Name Ajwain Oil / Ajowan Seed Oil
Ajwain Oil / Ajowan Seed Oil
The highly fascinating Ajwain Oil / Ajowan Seed Oil is a pale yellow-brown color liquid having warm spicy pungent and a sharp hot taste. It is widely used in the aromatherapy treatment centers to provide immense relief from mind related problems. This perfume oil is obtained from the high grade crushed ajwain seeds by implementing latest techniques. The myriad health benefits of Ajwain Oil / Ajowan Seed Oil is attributed to its intense therapeutic properties such as anti spasmodic, stimulant, tonic, carminative, aphrodisiac and many more.
Weight
100ml./ 3.520oz
250ml./ 8.799oz
500ml./ 17.598oz
1000ml./ 35.195oz
2000ml./ 70.390oz
PRICE IN USD
$ 10.00
$ 19.00
$ 32.00
$ 58.00
$ 110.00
Method of Extraction and part of Plant Used It is obtained from the crushed ajwain seeds through Steam distillation process.
Properties Yellow-brown color.
Blends Well With
Sage, thyme and parsley.
Aroma Pungent and spicy aroma.
Integrant 50% Thymol, γ-terpinene, p-cymene, a-pinene, and limonene.
Precautions Pregnant woman and nursing mother should seek proper medical advice from an expert before using this oil.
---
| Solubility | Specific Gravity | Optical Rotation | Refractive Index | Flash Point | Extraction Method |
| --- | --- | --- | --- | --- | --- |
| Soluble in alcohol and oils. Insoluble in water | 0.910 to.930 @ 25C | +0 to +2 @ 20C | 1.480 to 1.510 @ 20C | 224F | Steam Distillation |
Uses
Due to the anti-inflammatory and curative properties, Ajwain oil is helpful for pregnant and lactating mothers. It improves digestion; ward off constipation which is quite common during the pregnancy. Even after pregnancy, ajwain oil is known for reducing inflammation, heals woman's body internally and helps in maintaining good circulation. Ajwain oil is a good way to get rid of pain due to arthritis and rheumatism.
Product Description
Ajwain oil is exclusively derived through the extensive process of steam distillation from the high grade crushed ajwain seeds. It is a pale yellow-brown color liquid having pungent and spicy aroma. This essential oil is highly beneficial for treating various skin problems. Ajwain was actually originated in Middle East Region, mostly in Egypt. Nowadays, it is basically grown in Iran, Egypt and Afghanistan. In India, Rajasthan and Gujarat are the major ajwain producing states. Ajwain seeds are rich source of protein, fat, carbohydrates, minerals, fiber, calcium, carotene, phosphorus, iron, thiamin, riboflavin and niacin. Ajwain is also known as omam in the southern part of India.
It works amazingly on inflammations★★★★★
I had inflammation on some of my body parts. I only wanted to use a natural remedy to tackle this problem. On the suggestion of my boyfriend, I thought to try ajwain oil. Yes, it didn't only work for me but also provided me desired results in less possible time. I would definitely like to recommend this oil to everyone. By: Ashley