26% Save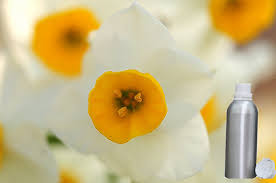 Botanical Name Narcissus spp
General Name Narcissus Attar
Narcissus Attar
Narcissus Attar is obtained from the flowers of narcissus through a process of hydro distillation method. This oil is appreciated around the world for its variety of reasons and uses. It possesses naturally strong and rich scent which makes it popular in the aromatherapy sessions, perfumery industry and cosmetic products as well as shower gels. Narcissus attar is very effective in treating problems such as mental fatigue, stress, anxiety and depression. Because of its captivating and alluring aroma, it helps in eliminating the problem of body odor.
Weight
50ml./ 1.760oz
100ml./ 3.520oz
250ml./ 8.799oz
500ml./ 17.598oz
1000ml./ 35.195oz
PRICE IN USD
$ 29.00
$ 52.00
$ 129.00
$ 255.00
$ 486.00
Method of Extraction and part of Plant Used Narcissus Attar is extracted from the flowers of narcissus through hydro distillation method.
Properties Dark amber in color
Blends Well With
Narcissus Attar perfectly blends well with Patchouli, Geranium, Lavender, Bergamot, Jasmine, Neroli, Clary Sage, Tea Tree, Rose, Lemon and Ylang-ylang oil.
Aroma Strong and rich scent
Integrant
Precautions It is recommended that pregnant women and nursing mothers should take proper medical advice before using it.
---
| Solubility | Specific Gravity | Optical Rotation | Refractive Index | Flash Point | Extraction Method |
| --- | --- | --- | --- | --- | --- |
| Soluble in alcohol | 0.9350 to 0.9550 | 0.37000 - 0.49800 | 1.6765 to 1.6925 | 156 °F | Steam Distillation |
Uses
Narcissus Attar is appreciated for its strong and rich scent and because of this captivating fragrance, this attar is widely used in the production of perfumes, cosmetic industry and scented products. It is well-known for its long lasting aroma and is very effective in eliminating the problem of body odor. This attar is very beneficial in aromatherapy practices as it helps in providing relief from problems such as depression, stress, anxiety, trauma, etc while keeping the mind and body relax.
Product Description
Our offered Narcissus Attar is extracted from the flowers of Narcissus through hydro distillation process. Its scientific name is Narcissus spp and has a dark amber color. This attar is known for its enduring and pleasing aroma and is extensively used in the aromatherapy practices. Apart from this, it is also used in the production of various cosmetic products and shower gels. The word 'Narcissus' is derived from the Greek word 'narkeo' which means 'narcotic'.
It is a good fragrant product★★★★★
I was searching for a natural fragrance which can be worn occasionally. Then I found narcissus attar which proved to be an extremely good for me. I have been using this oil for a year and I'm quite satisfied with the quality of this attar which I bought from Natural Indian Oils. I would love to recommend it to others too. By: Richard
Product you may also like