29% Save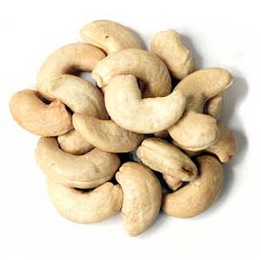 Botanical Name Anacardium Occidentale.
Origin Peru and Northeastern Brazil
General Name Cashew Nut Oil
Cashew Nut Oil
The pale yellow to dark yellow color Cashew nut oil is derived from the kernels or seeds of the cashew tree using the process of cold pressing. This essential oil originally comes from Northeast Brazil but nowadays it is mostly found in tropical climates. Cashew nut oil contains vitamins and proteins along with calcium, phosphorus and iron which makes it highly nutritious and good ingredient for healthy life. It works magically in treating various skin infections such as ring worm, psoriasis, warts, and sores.
Weight
250ml./ 8.799oz
500ml./ 17.598oz
1000ml./ 35.195oz
2000ml./ 70.390oz
5000ml./ 175.975oz
PRICE IN USD
$ 18.25
$ 35.00
$ 65.00
$ 125.00
$ 305.00
Method of Extraction and part of Plant Used It is extracted from the kernels or seeds of the cashew tree through cold pressing method.
Properties Pale yellow to dark yellow color liquid.
Blends Well With
Few oils.
Aroma Strong aroma.
Integrant Cardol, Anacardic acid, Cardanol and Methyl Cardol.
Precautions Before using this oil, pregnant women and nursing mother should seek proper medical advice.
---
| Solubility | Specific Gravity | Optical Rotation | Refractive Index | Flash Point | Extraction Method |
| --- | --- | --- | --- | --- | --- |
| N/A | 0.950 - 0.970 | N/A | N/A | N/A | Cold pressing method |
Uses
The Cashew nut oil is enriched with Vitamin E and its regular intake can cure eye sight problems, and macular degeneration. It is helpful in lowering total and LDL cholesterol levels. Using this oil on regular basis helps the skin to retain its moisture. This is mainly due to the excess of moisture present in the cashew nut oil. It works miraculously on anti-aging therefore extensively used as a chief ingredient in the anti-aging products.
Product Description
Our Cashew nut oil is derived through the process cold pressing from the seeds or kernels of this plant and is highly beneficial for varied purposes. Cashew tree is a tropical evergreen that produces cashew nut and cashew apple. Cashews are highly enriched in magnesium, iron, selenium, zinc and phosphorous. The tree of cashew has originated from Brazil and its nuts are extremely popular in this region. After that, cashew tree (Anacardium occidentale) has started growing in some parts of Africa and in sub continents of Asia.
I acquired the benefits from this oil★★★★★
Being very much conscious for my skin, I was searching for a natural remedy for maintaining my skin texture. Once, my granny suggested me to use cashew nut oil. I thought to give a try for one time. I tried it and really it worked for me even better than I thought. It absorbs deeply into the skin and brings back the natural shine. By: Annabel
Product you may also like