28% Save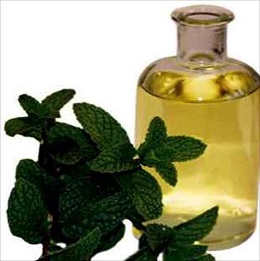 Botanical Name Mentha piperita
Origin Mediterranean region
General Name Peppermint Oil
Peppermint Oil
Peppermint oil is extracted through steam distillation method from the partly dried leaves of peppermint plant, which is a cross between water mint and spearmint. This oil is widely recognized for its intense, fresh, minty fragrance and healthcare properties. For its stress and pain relieving properties, peppermint oil is extensively used in aromatherapy and as a home remedy to ease stomach problems. Besides, it is used in the manufacturing of soaps, shampoos, cigarettes, chewing gums, toothpaste and ice cream due the presence of menthol & menthone.
Weight
100ml./ 3.520oz
500ml./ 17.598oz
1000ml./ 35.195oz
2000ml./ 70.390oz
5000ml./ 175.975oz
PRICE IN USD
$ 18.00
$ 39.26
$ 76.25
$ 150.00
$ 340.00
Method of Extraction and part of Plant Used It is extracted through steam distillation method from the partly dried leaves of the peppermint plant.
Properties Colorless clear liquid with tinge of light green.
Blends Well With
Eucalyptus, Rosemary, Lemon and Marjoram essential oil.
Aroma Intense, Clear, Fresh, Minty Fragrance
Integrant Menthol, Menthone, -Menthyl Acetate, 1, 8-Cineole, Limonene, Beta-Pinene and Beta-Caryophyllene.
Precautions Consult an expert before using peppermint oil.
---
| Solubility | Specific Gravity | Optical Rotation | Refractive Index | Flash Point | Extraction Method |
| --- | --- | --- | --- | --- | --- |
| Soluble in Alcohol & Paraffin Oil But Insoluble in Water | 0.900 to 0.912 | -16 to -30 | 1.460 to 1.467 | 66 C | Steam Distillation |
Uses
Peppermint oil is widely used in aromatherapy to relieve anxiety, pain, improve memory and raise alertness. Also, it is used to ease abdominal pain, indigestion and upset stomach. When inhaled through vaporizer, it clears up phlegm, reduces tuberculosis-induced inflammation, asthma and lot more. It is also used as a treatment against herpes infection and widely preferred in massage oils, shampoos, body washes & lotions for its antiseptic & antimicrobial properties.
Product Description
Extracted from peppermint leaves, peppermint oil is utilized as a flavoring agent in foods & beverages and in soaps and cosmetics for its intense mint fragrance. Peppermint oil is used to treat various health conditions such as Irritable bowel syndrome, indigestion, muscle spasm and respiratory problems, including depression, stress and anxiety. Also, it is used as an ointment to treat skin-related problems.