29% Save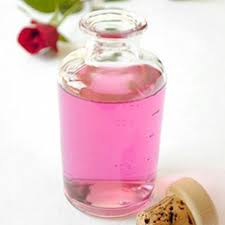 Botanical Name Rosa Damascene
Rose Water
Rose water is extracted from the rose petals through the process of steam distillation. Roses are very beautiful and known for their exquisiteness, fragrance and health benefits. Rose is a natural ingredient which creates wonders on skin, hair, eye and beauty. The mesmerizing fragrance of rose water has the ability to fill your heart with love and compassion. It helps in removing unwanted, extra oil and dirt accumulated in clogged pores whilst making your skin healthy, radiant and soft.
Weight
50ml./ 1.760oz
100ml./ 3.520oz
250ml./ 8.799oz
500ml./ 17.598oz
1000ml./ 35.195oz
PRICE IN USD
$ 24.00
$ 33.00
$ 44.00
$ 54.00
$ 65.00
Method of Extraction and part of Plant Used Rose Water is extracted from the rose petals through steam distillation process.
Properties Clear pale color
Blends Well With
Rose Water blends well with Palmarosa, Clove, Geranium and And Jasmine Oil.
Aroma Pleasant, sweet and floral aroma
Integrant It consists of Phenyl Ethanol, Farnesol, Henicosane, Citronellol, Nerol, Linalool, etc.
Precautions Although it is safe to use, but it is recommended that pregnant ladies should completely avoid using it.
---
| Solubility | Specific Gravity | Optical Rotation | Refractive Index | Flash Point | Extraction Method |
| --- | --- | --- | --- | --- | --- |
| | | | | | Steam Distillation |
Uses
The pleasant aroma of rose water helps to release stress instantly and lifting the mood. Rose water is used for the production of various products such as bathing soaps, shower gels, shampoos and incense sticks. It is a great cleanser which helps in removing extra oil and dirt accumulated in clogged pores of the skin, which protects your skin against skin problems such as acne, pimples and aging. It eliminates dryness and frizziness in the hair by moisturizing your scalp. Apart from benefits to skin and hair, rose water is very effective in providing relief from gum problems and pains. It can also be used to eliminate the problem of bad odor for a fresh breath.
Product Description
Rose water has gained its popularity due to its wide variety of benefits to skin, hair, teeth, eye and health. Our offered rose water is 100% pure, natural and unadulterated. Botanically known as Rosa damascene, rose is originated from Asia and France. It is widely used in the perfumery industry for the production of perfumes. Rose water is also used in skin care products such as creams, lotions, balms, shampoos and other related products. Rose water is very effective in giving instant relief to tired and burning eyes.